Your global and cyber-secure service strategy
With our MEP®Manager we offer you the possibility to create a quick and secure connection to every production site through a central administration office. In this way it is possible to realise quick and real time accesses to the machines, regardless of their location.
Emergency? Work on your service from where you are, instead of always rushing to the site
Thanks to the VPN connection and using the MEP®Manager as administration unit, the employee can connect to the MEP®SmartDevices and therefore to the machines, regardless of their location. Thereby no other service staff is needed and costs are decisively reduced. This is how we solve problems: quickly, cheaply and efficiently./ Thus, problems can be solved quickly, cheaply and efficiently.
Benefits of the remote service
✔ Simple and fast remote access
✔ Saving time and travel costs
✔ More efficiency in service
✔ New business- and price-modells in service
✔ Higher efficiency of plants
✔ Faster reaction-time in service
✔ Better availability of expertise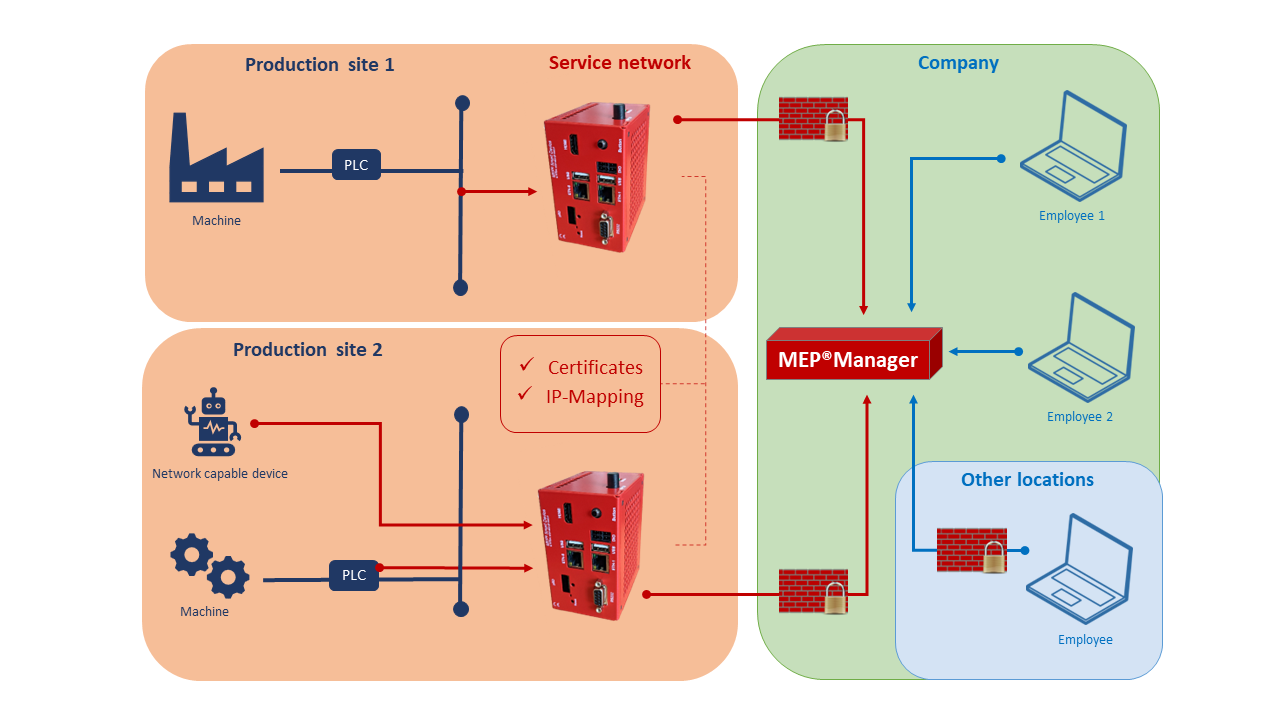 Something crucial for us: Security!
To make sure that your data are always protected we use a VPN connection, so that no unauthorised access is allowed. It is also possible to set up several user accounts and assign to each of them different access rights.
Functioning
Employees from different sites can build through the VPN-Client a secure connection to the MEP®Manager VPN-Server. The connection to the MEP®Manager and all the remote connections to the machines that are initiated with MEP®Manager are conducted through a secure VPN tunnel and therefore protected from any unauthorized access.
To make plants / machines accessible via the MEP®Manager, a MEP®SmartDevice must be integrated into the plant network. It establishes secure communication between MEP®Manager and the system network.
Authorized employees can access the machines behind them via the MEP®Manager and the MEP®SmartDevice. To establish a connection with the respective machine, the employee must start the connection. Once the employee has started the connection, SSH, VNC and RDP connections can be called up directly via the browser, as if the machine were directly connected to the local network of the employee PC. Benefits of MEP®Manager at a glance - Security - Time savings through simple configuration - Travel cost savings - New business models, such as backup service - Resource optimization - High transparency about ongoing activities
Short preview of the interface
Commonly asked questions about secure remote-service
What is a remote service?
The term remote service, or remote maintenance, refers to remote access from one device to another, where both devices are in different physical locations.
In our case, this means access from a service PC to machines that can be distributed worldwide. This means that a technician can log on to a machine thousands of kilometres away in another country with just one click on the PC.
What makes a secure remote service?
The basis for a secure remote service is, on the one hand, the encrypted VPN connection between the two devices.
In addition, we offer a function for the manual granting of remote access, whereby it can be precisely controlled when a machine can/should be accessible for service at all.
As an additional security feature of our MEP®Manager, the start of the VPN connection can only be started from the machine on site, making unplanned access from outside impossible.
What role does security play in remote maintenance systems?
At present, the machines in a production facility are usually located in a machine network that is completely separated from the outside world. This is done so that the production is protected from attacks from outside the company. With a remote maintenance tool, you have to break through this separation and therefore it is important that certain security rules are observed here, so that the production is still protected from hacker attacks. Therefore, security in remote maintenance systems is extremely important.
How important are remote maintenance tools for the future?
Remote maintenance tools have a very high value for the future, because they can avoid travelling and thus protect the environment. The beauty of this is that it can even save costs in the company and the service staff can spend more time at home with their families.